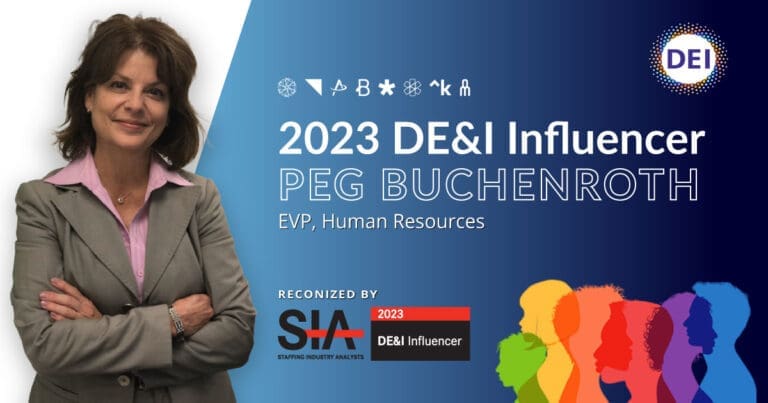 AIM Consulting, industry leader in technology consulting and solutions delivery and Addison Group company, is excited to share that Peg Buchenroth, Executive VP of Human Resources has been named as a 2023 DE&I Influencer by Staffing Industry Analysts (SIA).
Buchenroth's unwavering dedication to fostering a diverse, equitable, and inclusive (DE&I) workplace culture has been instrumental in shaping Addison Group's values and initiatives.
Peg Buchenroth's Commitment to DE&I
Under Buchenroth's leadership, Addison Group has made DE&I an integral part of its organizational fabric, moving beyond a one-time project to create lasting change.
Recognizing that embracing DE&I attracts the best talent and brings forth valuable perspectives and innovative ideas, Buchenroth and the DE&I Advisory Board have been instrumental in implementing a comprehensive three-year plan.
Addison Group DE&I Taskforce
In November 2020, Addison Group established an interim DE&I task force, which has since evolved into a permanent advisory board.
Additionally, the company engaged a DE&I expert consultant who worked closely with the advisory board to develop and implement initiatives.
Addison Group Employee Resource Groups
Notably, seven employee resource groups have been launched, providing internal support and fostering social networks for employees across Addison Group's family of brands.
"Our employee resource groups play a critical role in providing a safe space for employees to build a community, be together and share stories," Buchenroth says. "I am proud of the courage of the individuals who share stories with us. Anyone who has attended our events and heard those stories were deeply moved."
Employee-led Progress & Change
As an advocate for employee involvement, Buchenroth believes that accelerating DE&I programs requires engaging employees at every level and partnering with trusted experts when necessary.
Addison Group's employee resource groups are entirely employee-led, showcasing the genuine passion and dedication of its workforce.
"The love and passion our employees have shown to be a part of DE&I efforts has been truly gratifying," says Buchenroth.
The future of DE&I at Addison Group with Peg Buchenroth
Moving forward, Addison Group aims to expand these resource groups, increasing membership and offering more educational and career development opportunities.
Buchenroth is also committed to supporting women- and minority-owned businesses, fostering partnerships within local communities, and encouraging employees to donate their time to make a meaningful difference.
Read the full story here or check out the full list of SIA DE&I Influencers for 2023.
About AIM Consulting
AIM Consulting (AIM), founded in 2006, became an Addison Group company in 2017 and is an award-winning industry leader in technology consulting and solutions delivery. AIM's differentiation is our collaborative engagement model that provides cross-functional results. We work with clients, shoulder to shoulder, for one goal – their success.
AIM has offices in Seattle, Minneapolis, Denver, Houston, and Chicago; AIM ranked among the "fastest-growing private companies" and "best companies to work," citing its long track record of success with partners and consultants.
Our long-term relationships with the best technology consulting talent allow us to deliver on expectations, execute roadmaps and drive modern technology initiatives.