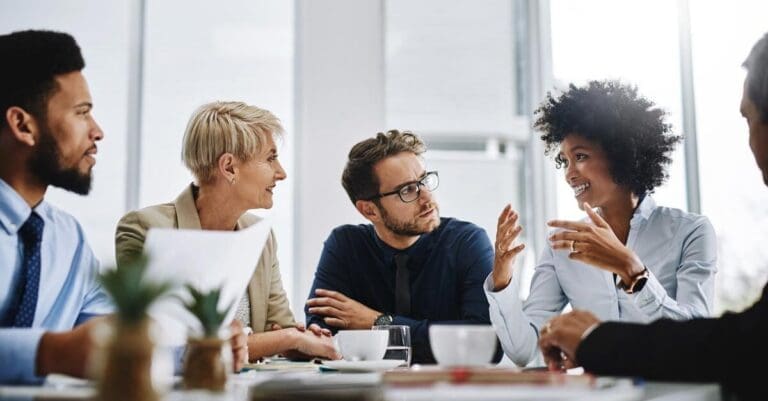 In times like these, when hiring freezes and layoffs happen, organizations need to reassess their upcoming projects and staffing needs.
Most companies are still trying to find ways to pursue financial growth and stability in the midst of today's uncertain economy. Businesses need to consider other ways to work and deliver to meet consumption and production demands.
How Organizations Can Achieve Resilience & Agility During Times of Economic Uncertainty
Three of the most impactful ways organizations can prepare themselves for future economic instability and optimize performance and agility during these times are:
Meet demands by automating processes
Enterprises can benefit significantly from leveraging digital process automation, otherwise known as robotic process automation (RPA). Digital process automation acts as a means of automatically completing tedious, routine tasks that would otherwise require significant manual effort. It is an investment that can not only reduce costs, but also improve overall efficiency and quality across your business.
Though RPA proves valuable for businesses by enabling them to complete processes quicker and with greater precision, it's also beneficial for employees.
During these mass layoffs, when employees may already be coping with the emotions of seeing their colleagues let go, they can be faced with the responsibility of absorbing those colleagues' responsibilities.
By automating low-value or time-intensive business processes, you can allow your teams to shift their focus to more impactful work and reduce the chances of burnout.
Create resilience by embracing Agile
According to Harvard Business Review (HBR), the COVID-19 pandemic clearly highlighted the differences between Agile organizations and those without Agile operating models. Unpredictable supply chains, constantly shifting market demands, and geographically scattered workforces changed Agile from an option to a requirement for businesses to stay afloat.
When faced with crises or challenges, enterprise agility is critical to navigate a rapidly changing business environment, effectively rework processes, and stay nimble. As HBR wrote, "Companies must consistently inspect and adapt their business to stay ahead of the market."
The economic uncertainty we are experiencing now is no different. From laying off hundreds of workers to attempting to increase efficiency and quality to meet market demands, adopting Agile practices allows companies to swiftly adapt and innovate.
The companies that embrace Agile are the same companies that remain resilient during challenging times.
Make change stick through organizational change management (OCM)
Investing in changes like leveraging digital process automation or undergoing Agile transformation is beneficial, but your organization will only reap those benefits if the investments stick.
Incorporating organizational change management (OCM) into the delivery process is key to ensuring your change is sustained.
Crises like COVID-19 or a looming recession require organizations to enact change rapidly. But a shaky economy and labor market can already generate stress among employees, and undergoing major changes like new technologies and updated processes can further amplify their anxiety and resistance.
OCM enables your organization's leadership to effectively introduce, manage, and sustain change while ensuring your employees have the ability and desire to fully realize the change.
Prepare Yourself for the Future with Digital & Technology Solutions
When companies seek solutions for how to best prepare themselves for future changes in the market and economy, they may be wise to turn to methods like implementing digital process automation and undergoing Agile transformation, all while being bolstered by the principles of organizational change management.
By relying on digital and technology solutions, like those offered by AIM Consulting, companies can minimize the challenges and risks of labor issues.
Need Help Ensuring Organizational Agility & Resilience?
We leverage our deep expertise in technology and passion for empowering our clients' growth and success to help companies tackle their most challenging projects. Let's accomplish your goals together.