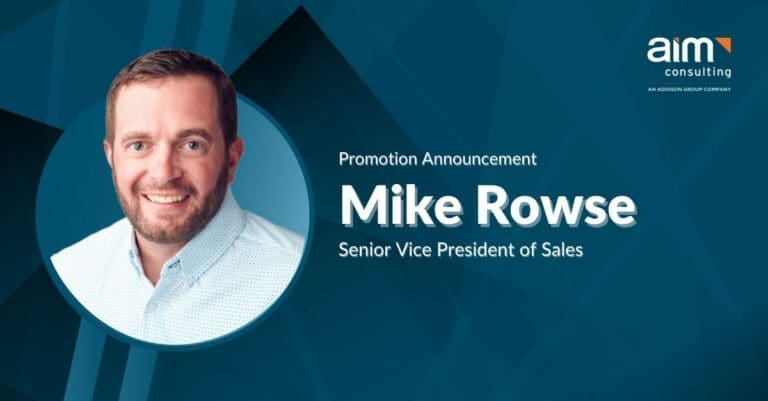 We are excited to announce the promotion of Mike Rowse to Senior Vice President of Sales, effective Wednesday, February 1, 2023. Rowse will oversee the company's sales force, servicing major accounts, customer acquisition and retention, and developing AIM's strategic organic growth and sales strategies.
AIM Consulting is a rapidly growing leader in technology consulting services and solutions delivery that helps companies compete effectively in the digital world.
"Mike has proven that doing right by our customers is the only way, and his passion for this team, our clients, partners, and consultants is undeniable. With an inherent understanding of people combined with his technical background and experience with rapid-growth technology engagements is the right recipe for continuous evolution with our sales teams."
Rowse started at AIM in 2008 as a Senior Account Executive. After proving to be a top performer, Rowse earned more responsibility and was promoted to Managing Partner leading AIM's Denver office expansion in 2012.
Rowse's customer-centric and results-oriented approach, tied with his acute understanding of technology solutions, moved him steadily into Director of National Consulting Sales and, most recently, Vice President of Consulting Sales before expanding into his new role as Senior Vice President of Sales.
Mike Rowse, Senior Vice President of Sales, spoke on the recent promotion:
"I look forward to continuing to drive AIM's sales strategy with the rest of the senior leadership team and pushing ourselves towards innovative ways to support our clients with best-in-class solutions."

"Having the opportunity to be with AIM these past 15 years help me bring a unique perspective from where we've been to where we're going. I am grateful to be part of our growth from a small regional-based technology firm to a national consultancy while not losing focus on the professional and personal growth of our customers and teammates."
AIM's differentiation is its collaborative engagement model that provides cross-functional results. AIM works with clients, shoulder to shoulder, for one goal – their success.
AIM's Awards & Accolades
AIM Consulting has received multiple recognitions, including Consulting Magazine's "Fastest Growing Firms for 2022," American Business Association Silver Stevie® Award in the "Healthcare Technology Solution" category, one of Washington's Best Companies to Work for by Seattle Business magazine, and National Association for Business Resources (NABR) Pacific Northwest "2022 Best and Brightest Companies to Work For®."
AIM Consulting will continue to maintain its headquarters in Seattle, Washington. With its new leadership structure, AIM plans to expand into new markets in alignment with Addison Group and its partner brands.
About AIM Consulting
AIM Consulting (AIM), an Addison Group company, is an award-winning industry leader in technology consulting and solutions delivery. AIM has offices in Seattle, Minneapolis, Denver, Houston, and Chicago. AIM ranked among the "fastest-growing private companies" and "best companies to work," citing its long track record of success with our partners and consultants. AIM's long-term relationships with the best technology consulting talent allow them to deliver on expectations, execute roadmaps and drive modern technology initiatives.