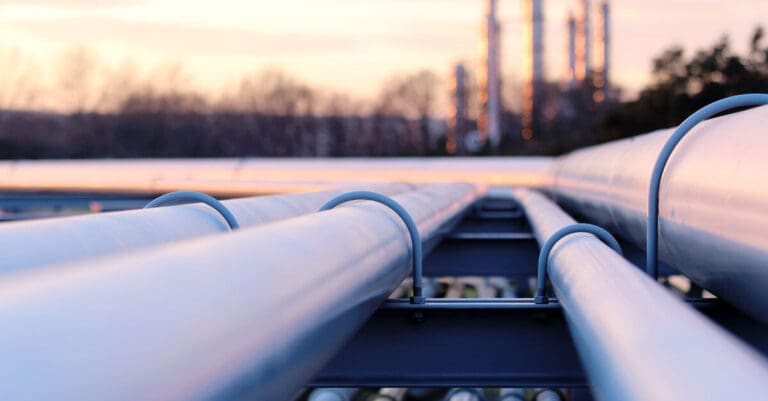 To remain competitive today, oil and gas companies are in a constant drive to optimize complex processes, save costs, increase reliability, and lower their carbon emissions.
When leveraged successfully, digital transformation can help oil and gas organizations achieve dramatic results in these areas.
Digital transformation in oil and gas, things to know:
What is digital transformation?
Digital transformation is the process of leveraging digital technologies to transform business processes, services, or operations. It can involve the creation of a new digital process, the maturation of an existing process, or the conversion of an analog process to a digital one.
Digital transformation is not a one-time fix, but rather a continual adaptation to evolving customer needs, environments, and technologies. 
3 Digital Transformation Opportunities in Oil and Gas
The opportunities to leverage digital transformation in the energy industry are nearly endless, but some of the most impactful areas are demand forecasting & optimization, carbon accounting and asset integrity.
Demand forecasting & optimization in the Oil & Gas industry
Embarking on a digital transformation project to automate sensor data for gas pipelines can have a significant impact on improving efficiencies, generating fuel savings, reducing downtime, and maximizing pipeline throughput.
Artificial intelligence (AI) and machine learning (ML) models can be used to make predictions for station pressures and produce operational recommendations to meet predicted flow requirements.
These ML models work by pulling together data from a variety of internal and external sources, including telemetry, nominations, weather, and sensor data, to evaluate thousands of potential scenarios.
This can transform organizations' legacy data solutions into human-centric, connected experiences for end users, delivering a unified view for controllers.
Benefits of autonomous operations digital transformation:
Increased reliability
Significant return on investment
Optimized profitability
Fuel savings
Reduced downtimes
Lower greenhouse gas emissions
More efficient resource management
Carbon accounting in the Oil & Gas industry
Compliance regulations require organizations to keep track of direct and indirect emissions, referred to as greenhouse gas (GHG) inventory, in a very complicated process.
Financial carbon accounting details the expenses for said emissions. Carbon accounting leverages supply chain history data to power AI/ML models that enable precision metrics for organizations.
As a result, organizations have access to reporting on-demand and know their carbon performance at any given time. Carbon accounting enables organizations to track their carbon footprint over time, identify inefficiencies, and optimize their operations to reduce emissions and costs.
Benefits of carbon accounting include:
Compliance with current and future legislation and regulations
Greater visibility and insights into your climate impact
Lower greenhouse gas emissions
Cost savings
More efficient resource management
Asset integrity in the Oil & Gas industry
Each year, oil and gas companies lose millions of dollars because of unplanned downtime due to equipment failure. Predictive maintenance technologies can help minimize those losses by using AI, ML, and advanced analytics to identify issues with equipment and alert relevant technicians.
Predictive maintenance techniques for the Oil & Gas industry:
Vibration monitoring to evaluate vibration patterns in the machinery and detect anomalies
Lubricant oil analysis to detect the presence of contaminants
Infrared thermography to monitor heat signatures in the equipment to detect excessive heat from machines under extreme stress or malfunction
By leveraging predictive analytics for real-time equipment inspection, oil and gas companies can predict maintenance needs, reduce unplanned failures and the resulting downtime, and ultimately reduce revenue losses.
Strengthen Cybersecurity in the Oil & Gas industry
Leveraging tools like automation and artificial intelligence and connecting with the Internet of Things (IoT) is undoubtedly beneficial for oil and gas organizations, but also puts them in a vulnerable position.
As a result, digital transformation must be complemented by a comprehensive cybersecurity framework.
A strategic cybersecurity framework that protects your organization against threats enables your organization to adapt to remain agile, safe, and sustainable.
Oil and gas companies manage key elements of critical infrastructure that are just as important to the nation's economic and military well-being as they are to the companies' operations.
These companies are appealing targets for cyber threats. Due to this level of risk, energy companies face strict regulations.
Top Barriers to Digital Transformation in Oil and Gas
Most oil and gas companies have yet to successfully scale digital transformations; however, this isn't for lack of effort. The real challenges come in the form of cultural and organizational barriers, including internal resistance, infrastructure integration, and lack of expertise.
The most common barriers that oil and gas companies face in achieving digital transformation are:
Internal resistance: Implementing new technologies and processes can be a powerful way to uplevel your company, but these changes can often generate anxiety and resistance among employees, hurting adoption and value realization. Employees need training and support to develop the right skills and adopt new processes.
Infrastructure integration: Digital transformation cannot succeed as an individual, isolated project. Instead, it must integrate seamlessly with your entire IT infrastructure.
Lack of communication: A successful digital transformation requires effective communication between teams. This encompasses communicating about the changes themselves, as well as communicating about the anticipated benefits so management and employees recognize the value and are willing to commit.
Lack of expertise: A digital transformation requires deep technical expertise and a custom-fit strategy to execute. Organizations often lack this expertise internally.
How AIM Consulting Can Help You Transform Your Business
At AIM Consulting, we help companies accelerate their business workflows by digitizing processes and leveraging strategic tooling and smart automation.
Our digital transformation solutions reduce the number of manual steps in your business processes while maturing legacy methods of information and data gathering to improve overall operations.
Need Help Tackling Your Digital Transformation Project?
We deliver expert guidance to chart your organization's path forward by identifying the processes, tools, and technology solutions needed to embrace digital transformation.
Contact us or learn more about our digital transformation services.